News & Updates
You Can Win the Thankful Wife Bundle!
With Thanksgiving just around the corner, let's take an opportunity to celebrate how grateful we are to be married to such fabulous men.  This week, Happy Wives Club is celebrating by giving away a "Thankful Wife Bundle"!  Here's what is included in the bundle: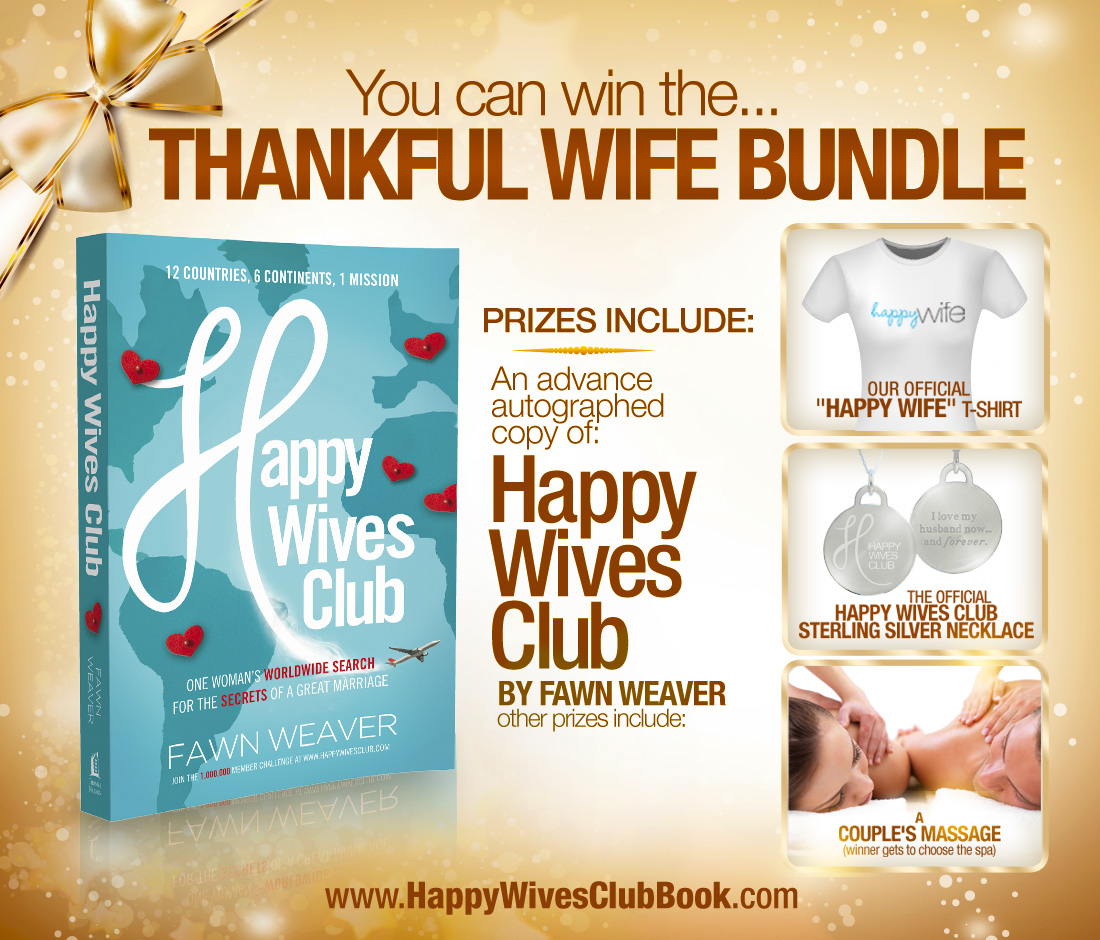 1.     An Advance Autographed Copy of Happy Wives Club by Fawn Weaver
The book officially goes on sale on January 7, 2014 (don't forget to pre-order you copy!)  Here is your chance to win an early copy that is signed by Fawn Weaver!
2.     Our Official "Happy Wife" T-shirt
What better way to share your love for your husband than with this stylish t-shirt.  Whether you wear it around the house or sport it around town, it's the perfect way to show support for you husband- and be comfy while doing it!
3.     The Official Happy Wives Club Sterling Sliver Necklace
Do you love this necklace or what?!  This sterling silver necklace features the Happy Wives Club logo on the front and is inscribed with "I love my husband now… and forever" on the back. 
4.     A Couple's Massage (winner gets to choose the spa)
Could you and your husband use some time to relax and unwind?  Here's your chance to win a couple's massage at the spa of your choice.  The winner will be contacted and get to choose where they would like to get their massage.  Prize includes massage (for 2) only.
How fun is that?!  Don't miss your opportunity to win these great prizes this week.  Enter below:
**Giveaway will end on Sunday, December 1, 2013 at 7:00 pm CST.   The winner will be selected and contacted by email within 48 hours of the giveaway closing.   The winner will be selected at random through Random.org. Winners will need to respond within 48 hours to claim their prize or another winner will be chosen. This giveaway is open worldwide, except in Puerto Rico and everywhere else where prohibited by law. Winners must be of full legal age in the jurisdiction in which they live.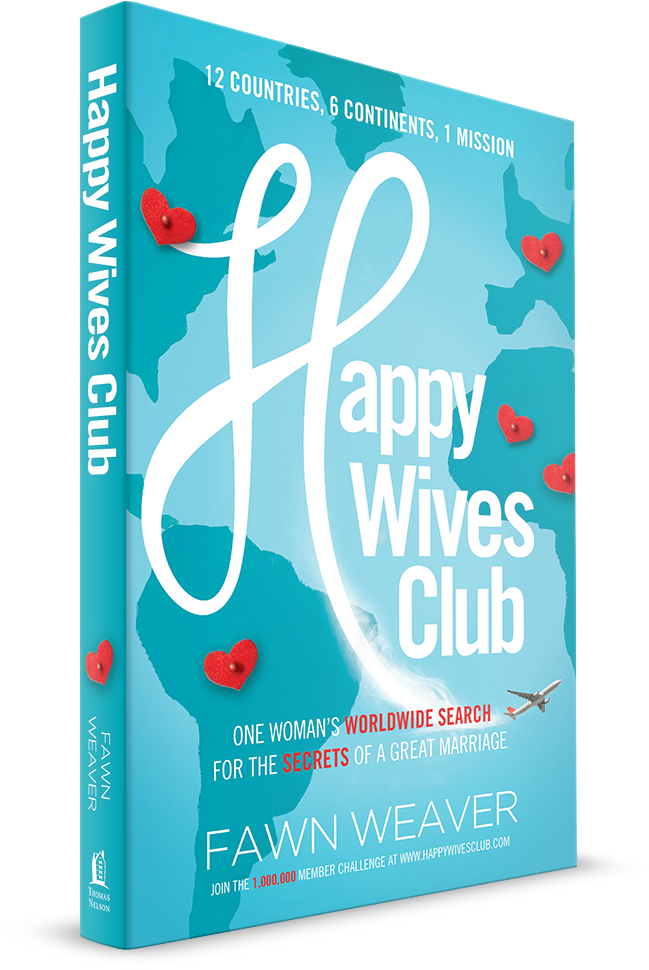 One woman's

worldwide search for the secrets of a great marriage.

Happy Wives Club is Fawn Weaver's journey across the world to meet new friends and discover what makes their marriages great. Join her on this exciting, exotic trip across six continents and through more than eighteen cities.
Endorsements

What people are saying
Misty May-Treanor
3x Olympic Gold Medalist
Once I started this book I found myself not wanting to stop. Fawn Weaver has found a way to highlight so many positives in relationships when so much around us is chaotic. It brought a smile to my face and warmth in my heart as she replayed the stories of these women and their relationships with their husbands. Happy Wives Club reassures us that marriages do and can work if there is love, faith, trust, and respect for one another.
Lissa Rankin, MD
New York Times
best-selling author,
Mind Over Medicine
Poking through the mud of a media culture rife with exploitative images of desperate housewives, Fawn Weaver's Happy Wives Club is a wildflower spreading hope for the insti­tution of marriage, not as a religious or political institution, but as the opportunity for two souls to evolve together as they tap into the Divine spark that lies within us all. While full of stories and tips from happy wives around the globe whose marriages have endured the test of time, this book is, first and foremost, a love story.
Priscilla Shirer
New York Times
best-selling author,
The Resolution For Women
With this one little book, and a growing band of women across the world, she has started a movement of happiness that has begun to sweep hearts and homes every­where. From Africa to North America (and many places in between), every single chapter chronicles an adventure through a land and a woman's life that will reveal the secrets of being happy after you say "I do." Let this stunning and captivating writer take you on a journey – an exploration around the world that ends up at a place far too few women have the sense enough to reach...a place called "Happy."
Kristine Carlson
New York Times
best-selling author,
Don't Sweat the Small Stuff in Love
It was Fawn Weaver's journey, but her writing makes us feel as though we were with her through every city, country, and region. The beauty of this book lies in its simplicity, humility, and a style of storytelling that makes you sad the book is coming to an end. If there were ever a case made for "happily ever after," it's Happy Wives Club.